Will you help us change the Scottish NHS for good?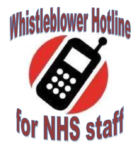 The petition at the Parliamentary Petitions Committee calling for a safer way for NHS staff to report mismanagement and bullying can be read on the Scottish Parliament website here: PE01605: Whistleblowing in the NHS – a safer way to report mismanagement and bullying
It has now been referred to the Health & Sport Committee for consideration. At present the Committee is undertaking a review of NHS Governance and the petition fits under this heading. More information here.
The petition was heard at Committee on 15th September 2016. Parliament put everything about the petition together here– from page 49 onwards. Click here to see Parliament TV's coverage of the petition- it starts at 23.5 minutes in and lasts 20 minutes. The full offical report can be read here (it starts near the bottom of page 8- it is a verbatim transcription of all that was said).
Committee considered the petition again on 24th Nov; the official (verbatim) report is here. On the 9th February it took evidence from Edinburgh City Council, Public Concern at Work (who run the current helpline) and Unison. The report is here and the video can be found here.
The final consideration of the matter was on 2nd March 2017 when evidence was taken from Paul Gray, Chief Executive of NHS Scotland. The 45 minute video can be viewed here and the report can be read here.
Who should the Whistle be Blown to?
Gary Wilson, ex-Employee Director of NHS Health Scotland supports the idea that the hotline would take reports to regional Health Boards. Each Health Board had a Staff Governance Committee made up of a 2-3 executive and up to 5 non-executive directors (usually with at least one Cllr). Gary also used to chair the bi-monthly meetings where Employee Directors from every one of Scotland's 13 regional Health Boards came together – so he has an excellent knowledge of working conditions that affect the 160,000 employees of Scottish NHS Boards. He served on both the Staff Governance and Audit Committees of NHS Health Scotland and notes that the non-executive directors who make up the bulk of every Health Board need to have far greater insight into mismanagement and bullying concerns if they are to fulfil their duties to effectively scrutinise the organisation.
At present non-executive Board members receive about £9,000 pa for sitting on the Board (most of those who sit on Health Boards are non-executives), but to date their knowledge of NHS workings only come through reports via the Chief Executive. The hotline would be a radical departure from existing practise, since it would mean the non-executive directors would, for the first time, have direct knowledge of what goes in our NHS.
Gary thinks this can only be a good thing. He said "For too long non-Exec members have had little knowledge of what goes in the health service, apart from what they hear from the Chairperson or Chief Executive when they come to the monthly meetings. The hotline gives a fantastic opportunity for them to get properly involved. There is an ongoing problem where almost 50% of health service staff won't speak up if they see something wrong. And bullying from managers and colleagues remains a big issue- 15% of staff complain of this. The bi-annual staff surveys show that over the last 6 years these figures haven't improved. We need to take action and the current helpline and champions just aren't working."
Kids not Suits argue the existing arrangements are quite inadequate, inefficient and waste public funding. There is almost £40M claimed by staff and patients against the NHS in Scotland each year and savings could be made if reports on poor patient care were dealt with efficiently.
It would appear that the Scottish Government's instructions to NHS Boards were being ignored. The Director-General of Health & Social Care, Paul Gray, wrote to NHS Boards in Sept 2015 indicating that each Board should appoint a Whistleblowing Champion- who would look for assurance that investigations were being handled fairly and effectively. The champions were to ensure that reported cases were being investigated, that regular updates were provided on the progress of the investigations of reported cases, that staff members who reported concerns were being treated and supported appropriately and not victimised, that members of staff were regularly updated on the progress of the concern they reported and advised of investigation outcomes, and that any resultant actions were progressed.
They were to ensure that Whistleblowing policy contacts were being updated on the progress and outcomes of cases and recommended actions resulting from an investigation. They were to publicise and champion positive outcomes and experiences.
It would appear from examining the minutes of Board meetings that little of this is happening in Scottish Health Boards (see 8 of them below- only Tayside is doing a six-monthly review of whistleblowing). There are no Whistleblowing policy contacts listed in the whistleblowing policies of the 14 regional boards either and, as we know, the identity of the Whistleblowing Champions are generally kept secret from staff. NHS Boards declare that the champions have "no staff-facing role", ergo their identities need not be publicised.
Kids not Suits thinks champions are being kept in the dark about the very matters they are there to fight for, so they cannot champion anybody or anything. The hotline would allow them and the Staff Governance Committees to do their job- which is to minimise risk to patients and staff. Sunlight will be the best disinfectant for our NHS.
There are actually three trusts in England who use a hotline: the Scottish Parliament has agreed to write to Salford Royal NHS Foundation Trust- but University Hospital of South Manchester NHS Foundation Trust and Camden & Islington NHS Foundation Trust use a hotline too.
The Northern Ireland Regulation and Quality Improvement Authority (RQIA) is the independent body responsible for regulating and inspecting the quality and availability of health and social care services in NI. Their report  "Review of the Operation of Health and Social Care Whistleblowing Arrangements" was published in September 2016 and has some excellent stuff in it- see it here.
The report mentions another by the four audit authorities that make up the UK. "Whistleblowing in the Public Sector- A good practice guide for workers and employers" came out on November 2014. On p25 it says "Your employer should still accept concerns raised anonymously and give a commitment that they will be acted upon, with channels of communication, such as hotlines, provided to facilitate them."
Here is a video showing how a hotline works in action from Safecall. View it at www.youtube.com/watch?v=15Q4mRNa_zI It's very helpful- it last 3 minutes or so.
Petition to Union bosses: Please let Scottish NHS members of RCN, Unite, Unison and BMA discuss whistleblowing
[Article for Labour Hame by Pete Gregson] I had a nasty experience a few weeks ago. I was booted out of the Royal College of Nursing congress in Glasgow when I was handing out flyers promoting my Parliamentary Petition calling for a whistleblower hotline for NHS staff. The nurses were very keen- my flyers went like hotcakes- but after 30 minutes I was told to leave by RCN Scotland officials.
They said I could not distribute my flyers because they conflicted with RCN policy, which was not to support my Petition . Whistleblower nurse Danni Gray, from Stoke-on-Trent Hospital, was incredulous that I was being told to leave. Danni had come a cropper herself when she blew the whistle (her story is featured in the May edition of the "Nursing Standard", Volume 30).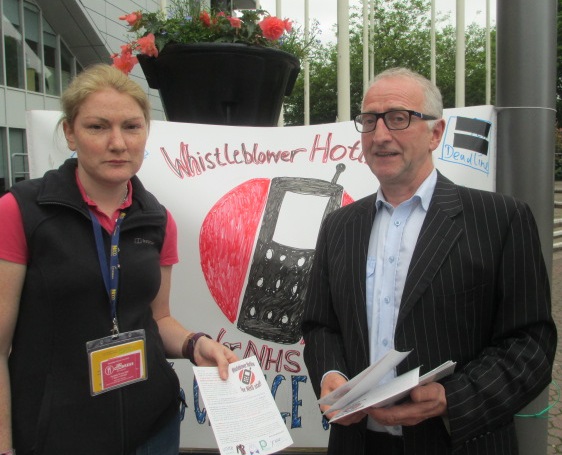 The RCN is not the only union that fears having whistleblowing discussed by its members. In fact, all four big health sector unions have refused to allow their Scottish members to discuss the Petition, which calls upon the Scottish Government to establish an independent national whistleblower hotline for NHS staff to replace the current helpline, widely derided as useless.
Because health workers in Scotland are being blocked from debating whistleblowing, Kids not Suits launched a second petition to support the campaign- a petition for a Petition. This one was addressed to leaders at Unison, Unite, The Royal College of Nursing (RCN) and the British Medical Association.
The reasons unions don't like the proposals are made clear in this petition. The aim was to use public pressure to get the four healthcare unions to reverse their stand – and allow staff to discuss whistleblowing at branch meetings. The petition for a petiion is now closed, but can be viewed at tinyurl.com/workplacedemocracy
I am asking Parliament to replace the National Alert Line with a proper hotline with investigatory teeth. It would differ in that it would delve into reports about mismanagement and malpractice, often without recourse to NHS managers. It would explore perceived negligence or ill treatment of a patient by a member of staff. And bullying too: the 2015 NHS Scotland staff survey revealed 15% of staff are bullied by bosses or colleagues.
Currently staff who have concerns are told to use the helpline to tell their trade union or manager – which more often than not has led to either nothing happening of the whistleblower being victimised. The survey found only 57 per cent of staff thought it was safe to speak up and challenge the way things were done if they had concerns about quality, negligence or wrongdoing.
The Petition is shortly to go before MSPs and union support is crucial to parliamentary approval. Please help me make Scotland's health service safer. My article in the Edinburgh Evening News of the 15th August is here Whistleblower charter must be independent .
And please donate a few £ to help pay for publicity by clicking here
UNITE
The problem of getting unions to support whistleblowing at the NHS is highlighted in the case of Unite Scotland, whose leader, Pat Rafferty, has gone to some pains to attack the Parliamentary Petition. It all started when his Unite Lothian branch voted to donate £500 for getting 50,000 flyers printed… Read the whole story here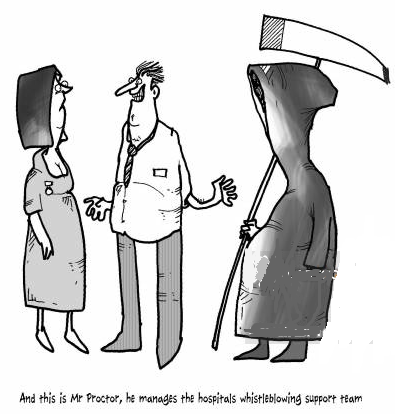 Why a hotline?
No NHS managers would see staff reports– just the Regional Health Board members. Whistleblowers jobs and careers would be safe, their identity secure. This is the mechanism whereby hospital workers could let those at the top learn as to what is really going on. NHS blunders compensation costs are huge. The hotline could be run by Safecall (who run Edinburgh Council's hotline) or any another of the 5 UK providers. Cost? £450,000 pa for 160,000 Scottish NHS staff. Saving? £Millions.  It will make hospitals safer.
The hotline will have investigatory teeth and would replace the existing useless helpline which has been branded "a waste of time" by campaigners. Dr Kim Holt of Patients First said "We have tried it out a few times. The people who called found it was hopeless. They're being told 'tell your manager, speak to your union'. They don't have any power, so all they can do is advise you."
Signatories so far include  Kezia Dugdale MSP (Leader, Labour Scotland), Lloyd Quinan (SNP Lothian List candidate), Alison Johnstone and Andy Wightman (Green Lothian MSPs),  Cospatric D'inverno (Lib Dem Lothian candidate) and Cllr Jeremy Balfour (Conservative Lothian MSP).
What Else You Can Do
We want to build a network of those who are interested in the progress of this through parliament. You may even want to present evidence (anonymously) that will strengthen our case. Get in touch here and you'll get an e-mail when there's news on progress.
Make sure you include your e-mail address.
The Petition calls for an independent national whistleblower hotline to replace the current useless helpline. The hotline provider would investigate reports and staff would be safe in the knowledge their concerns were for the Board's ears only.
The new hotline would mimic the one in place at Edinburgh Council, establised in May 2014. It was featured in a January report which concluded "Many of the recommendations that have resulted from investigations have led to amendments to policy, improvements to procedures and processes, the development and sharing of best practice and improved service delivery." The Scottish NHS would benefit from exactly the same.
The hotline Petition has been covered in the press: read the Herald news article  "Campaigner bids for whistleblowing hotline with investigatory teeth"  and the Kids not Suits Evening News opinion piece. The Press & Journal was pleased that the campaign for the hotline made it to Aberdeen- their article was published on 3rd May 2016.
The Petition was supported by the Scotland Patients Association, the UK Patients Association, Action for a Safe & Accountable People's NHS (ASAP NHS) and NHS Lothian UNITE Branch .
East Edinburgh Hustings shows Support for Kids Not Suits Parliamentary Petitions
At Northfield/Willowbrae Community Centre in April 2016, the parliamentary heavyweight contenders were quizzed by the community in this event organised for the East Edinburgh constituency by the local Community Council. In the audience were two supporters of Kids not Suit's petition to Parliament.
Kev Ferguson, Chairperson of Unite NHS Lothian, asked the panel if they would support the hotline, which he considered could make a big difference for the staff he represented. He also sought their support for an independent regulatory body for NHS Scotland, which ASAP-NHS had called for.
Candidates were uniformly in favour of the hotline and signed the petition signing sheet as soon as the hustings were over.
Kezia Dugdale, Labour leader, and candidate for Edinburgh East, was first to sign. She was followed by Andy Wightman, Green Lothian list; Lloyd Quinan SNP Lothian List (who took the place of Ash Denham); Ian Cook, Conservative, East Edinburgh and Cospatric D'inverno, SLD, East Edinburgh.
All candidates felt that the hotline would make a huge difference to the NHS; Kezia Dugdale spoke knowledgeably about the management issues of Lothian NHS.
A video was made of the event split into 3 parts; Northfield Hustings Part 1 covers the whistleblower debate and is available on You Tube at https://youtu.be/gkKrgKI4PvI
A Recent Case of a Whistleblower Bullied Out of His Job
Aberdeen Royal Infirmary's top surgeon, Prof Krukowski, had a dreadful experience at the hands of Grampian Health Board. He is the Queen's personal surgeon.
He was hit by an operations ban in late May 2015 after he expressed concerns was about the number of operations that were being carried out that weren't needed. "Whistleblower suspended after voicing concerns over NHS Grampian's running of Aberdeen infirmary" in the Press and Journal and  the Daily Record covered the story as well
One of his patients, Diane Smith, 67, led a campaign for his reinstatement.
The petition to reinstate him got over 2,000 signatures:
In April 2016- Grampian Health Board were forced to release the report: "Secret report reveals extent of unnecessary operations carried out at Aberdeen Royal Infirmary" was the Press & Journal headline.
Then on the 24 April there was a story in the Press & Journal saying Prof Krukowski has now left Grampian, having been bullied out of his job.
His colleague Dr Wendy Craig got the same treatment.
Other Information on Whistleblowing in the NHS
We are fortunate in having the petition supported by a whistleblower who has seen such wrongdoings and saw his career go down the swannee as a result- Rab Wilson: see Rab's video here to see what NHS staff have to put up with https://www.youtube.com/watch?v=7TG1Bcv45iI .
The NHS hotline would be modelled on Edinburgh Council's arrangement, with reports going to the Regional Health Board. Dissatisfied whistleblowers could take the matter all the way to the new Scotland whistleblower champion.
Kids not Suits (KnS) got the Edinburgh Council established in 2013- see its history here and its success was evidenced by KnS in the Edinburgh Evening News a month ago here. The Council admits to its impact in its annual whistleblowing report here.
The others supporting this petition are Unite NHS Lothian Branch, Scotland Patients Association, Action for a Safe & Accountable People's NHS (ASAP NHS) and the UK Patient's Association.
Readers who are up to date with the Scottish Government may have heard the announcement a few weeks ago that the useless NHS Scotland whistleblowing line is to get an extra year. Also that there is a plan for each Health Board to have a whistleblowing rep and for there to be an Independent National Whistleblowing Officer, who will scrutinise the handling of whistleblowing cases in NHS Scotland. The KnS scheme complements these actions but the Government may argue that we need a couple of years for their new whistleblowing champions to bed in before the petition can be considered. But they admit these officers have no investigatory powers, so staff are unlikely to be much better off than they are just now if they want their concern to be investigated without fear of bias or retribution.
KnS doesn't think the regional and national whistleblowing champions scheme is going to make much difference. We can't afford to delay. If you were going into hospital, would you feel confident that the nurse is unlikely to report anybody who mismanages your case? Folk die because things go wrong. On the 26th February 2016 the Edinburgh Evening News reported that "Delivery room blunders had cost NHS Lothian £12m".
And KnS does not think austerity should not be used as a reason for not doing this. NHS Scotland has 160,000 staff, so the annual cost of an independent investigating hotline provider could come to £450K. But the cost should be set against the NHS Scotland annual budget of £12 Bn. To understand the cost/benefit ratio for such a scheme, the cost of a hotline should be considered in the light of savings it should create. For instance, the cost of the hotline would be relatively miniscule if it helped minimise just one of the delivery room blunders mentioned above.
Blueprint in Australia
Blueprint have recently published a report on the UK 1998 Disclosure Act, saying it is no longer fit for purpose. It is called "Protecting whistleblowers in the UK: A new Blueprint" . The Mail reported on it when it was launched on 9th May here. For those interested in tracking whistleblowing news across the world, go visit http://blueprintforfreespeech.net
MayDay Rally, Edinburgh 7th May 2016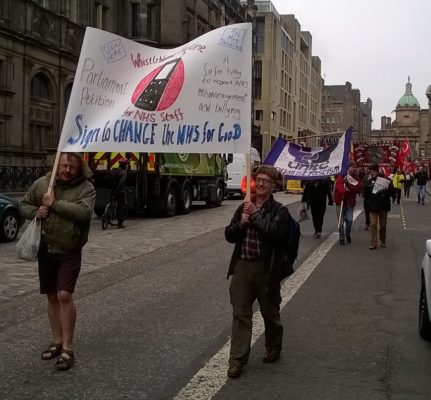 A Sunshine Act for Scotland
Another Parliamentary Petition of interest is this one calling for Scottish doctors to maintain a register of interests (ie big Pharma who give them cash) Read more at PE01493: A Sunshine Act for Scotland