Struggling for change, but failing
Edinburgh Council Children & Families Dept needs to slim down its back office, stop trying to close schools, make better use of the ones its got and become more efficient- and put much more of its money and energy into young people, community education and  reducing class sizes. Why should we worry? As Sir Michael Wilshaw, the government's chief inspector of schools, pointed out in the Guardian on the 14th June 2013, underachievement in state schools 'creates moral and political danger'. Failure of schools risks fuelling drift towards extremist groups such as the English Defence League. (In Scotland we have "The Scottish Defence League).
On 13th Dec 2012, the press and the union noted that Edinburgh schools are not working well. See the Evening News article by Laura Cummings: Teachers Demoralised and Undervalued after Changes at Edinburgh Schools
Demolish then Re-build
Following this, it was noted on 8th Jan 2013  that Education chiefs were accused of trying to rush through extensions to four primary schools by building them against government guidelines.  (Eve News article). On 26th June, they announced they were building 63 new classrooms to deal with rising rolls  (Eve News article). But they had anticipated these rising rolls back in 2008; the children doing to school now were born then, but still they pressed ahead with closures. In fact, the Edinburgh birthrate has been rising steadily since 2002, so the officers have known of this problem since then.
The following from page 7 of this Council document of August 2008 "Investment_in_Schools"
" Whereas the period from 1997 to 2007 was characterised by falling rolls, primary school rolls are expected to "bottom out" around 2009 and thereafter they will start to increase.
The projections show the population in the 5 -11 age group falling to just over 29,000 in 2009 before rising to over 34,000 by 2017.  Assuming that the current differential is maintained between the school rolls and actual numbers, an 85% capture rate factor has been applied to the total population to estimate local authority school rolls – to allow for loss to the private sector and other factors.  The figure shows that this would result in a total roll of approximately 29,000 pupils by 2017.  "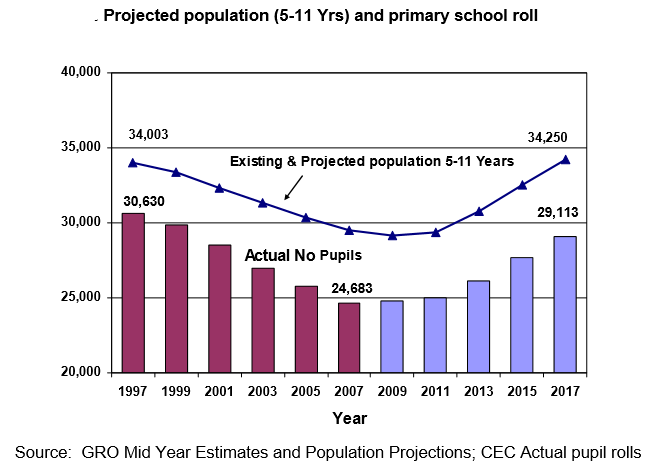 Overstaffed and Overmanaged
Cllr MacLaren said in the Evening News of 29 February 2008 that "The Children & Families (C&F) Dept is overstaffed and overmanaged, so will be restructuring. We're hoping to get it slim and more efficient." (City's education leader says tough start won't stop her trying )
The Council Finance Dept's CECKey Facts 2010-11 revealed there was indeed a reduction in Children & Families staffing over the two years since Cllr MacLaren's press statement; a reduction of 15% of teachers and 1% of non-teachers. Maybe that was not the cut that Cllr MacLaren was seeking. At the time, the Evening News covered the key points of the campaign – Parents call for managers to sort out city classrooms
More recently, the Council figures for 2011-12 emerge in the recent Key Facts webpage. The numbers here  illustrate that Edinburgh continues to have many more non-teachers than teachers on the payroll. Since the previous year the recording procedures have changed though- now it is not Full Time Equivalents (FTEs) but all staff that are recorded. What is interesting to note is that there has been a greater decrease in teaching staff  than in non-teaching staff. Kids not Suits calculate there are now 7.4% fewer teachers and only 6.3% fewer non-teachers. There is an impression here  that the Education Dept bosses would rather lose a schoolteacher than any other member of staff.
The motion (see 18) seeking to get teachers out of the back office and into the front line, jointly put forward by Cllrs Paul Godzik of Labour and Cllr Cameron Rose of the Conservative Groups on 19th August 2010, lost at Council by 29 votes to 28. The Lib Dems and SNP combined to defeat it (see Council Rejects Bid to put More Teachers in City Schools). The Edinburgh Reporter has covered the campaign and motion,as well – see Class Sizes Attacked by Parents and Kids not Suits loses Vote- but Campaign continues…
Children & Families Mismanagement
Edinburgh has the highest proportion of privately educated children in the UK with about a quarter of all school-age children enrolled in the city's 15 independent schools, compared with 7% nationally." (from the Guardian in 2009 ). Clearly the pushy parents of Edinburgh have little confidence in the city's schools.
(But those parents better watch out. Charitable status may be removed for some of those schools. See the Scotsman Jan 2013. )
There is no escaping the fact that Edinburgh spends more than many other Councils on education, yet is outperformed (eg on matters such as class sizes.)
Class Sizes: How Edinburgh shapes up to other Scottish Authorities.
An FOI request in 2010 revealed that at least 38 of Edinburgh's 87 primary schools had a P1 class of over 25 and 20 schools had P1 classes of 30 (two schools had still not filed their returns). At least 2,037 five-year olds in Edinburgh were therefore stuck in classes greater than the guidelines for their infant years because they just missed out on recent Scottish Government legislation setting a maximum P1 class size of 25. (over 55% of those who started at school that year.) The 2009 figures released by the Government in the annual Pupil Census showed Edinburgh ranking 29th worst out of 32 authorities for large P1 classes (only just better than South Lanarkshire, East Renfrewshire and Glasgow City Council) . The SPICe Briefing Note of 6th March 2010 notes that both City of Edinburgh Council and Renfrewshire Council have made little or no progress since 2004 in reducing class sizes. The only other country in Europe with P2 and P3 classes as big as the UK – with 30 pupils- is Latvia.
The Review of Class Size Control Mechanisms, published by the Government on 14th Sept,  illustrates this- and acknowledges the benefits of smaller class sizes. But Edinburgh was the exception. In Sept 2009 the Education Minister said "across Scotland, class sizes in primary schools have fallen [on average] to an all-time low of 23.2" (Scottish Government News Release Sept 09 ).
The SPICe Briefing Note of 6th March 2010 to Parliament's Education, Lifelong Learning and Culture Committee stated  in 2009 that 91% of scottish P1 pupils were in classes under 25, taught by a single teacher. But in terms of money spent per pupil head, only 13 Councils spend more than Edinburgh per head of pupil population. So it spends more than many other authorities, yet is outperformed.
Where is all the money going?
A Bit of History
It is likely that many of Edinburgh's problems arise from the Local Government Reorganisation of 1996. When Lothian Region's huge Education Dept was added into the smaller Edinburgh District Council's structure, it failed to fully adjust to the reduced size of the new authority. In the intervening years, little has changed.
The budget for Children & Families (C&F) for the 2010-11 financial year was £377M. That was 38% of the Council's budget, making it by far the biggest of the Council's six Depts. (see CEC Budget 2010-11 ). Of the annual £288M in the schools and community education budget, 2%, or £5.76M, was spent on management costs (see Parents call for managers to sort out city classrooms). Of the £288M, about 63% of the money spent running the schools was devolved to the head teachers. The other 37%, or £143.5M was controlled by C&F senior managers for back office and support functions.
[Data for previous years can be found at the Scottish Government "Expenditure on School Education in Scotland" figures: Table 5.1 gives revenue spend for all school education functions. (Table 5.1). Table 5.2 gives revenue devolved spend.  i.e spend channelled through head teachers' budgets. ]
C&F employs 45% of all Council staff: it has more non-teaching staff employed than teachers; there are 3,709 teachers employed and 3,764 others (see staffing summary in CEC Key Facts 2010-11). These others are classroom assistants, nursery and early years staff, community centre staff, educational psychologists and therapists, disability workers, Active Schools Co-ordinators, Youth Music Initiative Co-ordinators and instructors, Children & Family Centre staff; Early Years Centres staff; Residential Care Officers; domestic staff and social workers.  Also included in these "others" are 524 staff involved in back-room services and management. Some of these "others" will have teaching qualifications, but will not be employed as teachers.
Of these 524 staff, 190 are managers.
C&F announced a cut of 1% to Edinburgh schools in April 2010. Cllr Andrew Burns, Leader of the Labour Group of Councillors, was dismayed by the budget and its effect on schools; read his blog at  Bad Day for Edinburgh Schools .
The Westminster public spending squeeze came into force in Scotland from  April 2011. Edinburgh overspent on previous years so had to save £90M over the following 3 years.
Recent Misjudgements
Proposing to site the new Portobello High school in what was known to be Common Good land. The Guardian explained how Scots have been losing Common Good land since 1491. However, even some cursory research would have lead Children & Families to realise it was not theirs to do with as they wished.
The unexpected management costs that will now arise over the next few years as the Council figures out what to do next, were to to be met by closing Castlebrae Community High School. This would have been a disaster for the 200 children who currently attend it.
The inadequate report seeking consultation on the closure of Castlebrae only gave half the picture and missed out key population statistics, ignoring the fact that the Council had demolished hundreds of family homes.
Thankfully, on the 14th March 2013, the Councillors rejected the officers recommendations and decided to keep Castlebrae open.
So how will C&F continue to afford to fund Castlebrae? It could start by re-organising its excess management staff, many of whom hold teaching qualifications, back into schools.
Talking of which, the Director of C&F, Gillian Tee, was a qualified teacher. She was also, according to the News, the Council's second biggest earner, on £137,244 (only overtaken by the Chief Executive). (salary at 10/11 £140,676) This boss commanded 6 more bosses. [The director of C&F commanded the 524 back-office staff through her Directorate (2 managers plus 6 workers), Planning & Performance (15 managers and 50 workers), Resources (9 managers and  27 workers), Schools & Communities (43 managers and 128 workers), Support to Children & young People (121 managers and 123 workers) and, jointly with Health & Social Care, the Chief Social Work Officer]
Children & Families- Overstaffed and Overmanaged
The reasons why C&F have budget problems that have led to schools losing out are many. They are:
1. Problems of their own making
2. New service to vulnerable children
3. The Reorganisation of Service Depts in 2006
4. Neighbourhood Partnerships5
5. Duplication of Other Resources
6. Wasting money/not looking after assets
7. Curriculum for Excellence
8. Clever Cuts
9. Are School Closures Necessary?
10. Empty School Buildings
11. Building New Schools
12. School Rolls are Rising
1. Problems of their own making
The problems Children & Families currently face budget-wise are of problems of its own making. For some years now it has spent beyond its means. Other Council Depts have been forced to shoulder the burden. Eventually, the Director of Finance told the Director of C&F that she must make cuts, and put their house in order. But C&F prefer to cut at the front line, hence the 1% cut in 2010 to all schools and the resulting increase in P1 class sizes to 30 pupils in around 8 schools and above 25 in around 42 others.
2. New service to vulnerable children
Children & Families have responded to the accusations of overspending by stating that over the past 7 years they have been developing a support service to vulnerable children and that such a new service costs money.
Such an addition to front-line provision is laudable. However, the C&F has not seriously considered alternative approaches as to how such a frontline service might be funded. For example, in 2005, they chose to employ extra C&F staff to provide the "Working Together" service for vulnerable children, rather than exploring whether the voluntary sector might be able to provide the service cheaper. By going down this road of directly employing its own staff, rather than contracting out work to the voluntary sector, the Dept has lost the ability to use market forces to keep costs down.  
3. The Reorganisation of Service Depts in 2006
In 2006, the Council reorganised its services. Out went the Education Dept, the Social Work Dept , Recreation Dept and the Housing Dept and in came a more joined- up approach. These Depts were merged and developed into Services for Communities and Children & Families.
Community Education was incorporated into the C&F Dept, while Libraries were brought under SfC. Other Councils, such as Dundee, have been more creative in the way they bring services such as Libraries and Community Education together (they have a Dept called "Leisure Services"). East Lothian has community centres in with housing in a Dept called Community Services (very like Edinburgh's SfC). Edinburgh has chosen to set up two separate management structures by forcing similar services to be delivered by different Depts. The result of such an approach is that double the number of managers are needed: middle managers for the Library service at SfC and middle managers for Community Centres at C&F. (There are 100 professional staff in Community Learning & Development. 25% of them are managers.) The C&F Dept has not sought efficiencies in the way it delivers its frontline services, preferring, as usual to "cut at the coal face".
But managers are expensive and unproductive in terms of front-line delivery. Following Mike's promotion into school's management, what was Community Education, now Community Learning & Development (CLD), has had to take the brunt of the cost of the cuts of having this management-heavy approach. Many front-line staff have been forced into early retirement, with the result that what was once a very large successfull team of committed staff across the city has been reduced to a fraction of what it was. As a result, the 44 community centres across the city lie empty at a time when they are most needed- at weekends, most particularly. The managers no longer work in the evenings. Yet they are supposed to have strong links with the community. People go to work or school during the day, so community centres should be most active in the evenings and at weekends. But if the managers are never there at these times, how can they meet the community? They have no role to play. Instead, they spend their daytime in meetings with other CLD staff or writing reports. They are community workers in name only.
On the other hand, senior library staff often work in the evenings. They know more about what is going on in the community than senior CLD staff. Interestingly, in contrast to C&F, the SfC Dept has actually tried to expand its service into the times when citizens need it most i.e. when they are not at school or work. Edinburgh's 26 libraries open on a Saturday and Sundays.
Such an approach has not occurred to C&F. With the constant erosion of front-line staffing there, there is not the desire to increase the service into new areas, such as weekend working.
Way back on 19th June 2008, Gina Davidson of the Evening News commented "Savings which were supposed to be made by merging the education and social work departments have not materialised and the end result is an unwieldy and money-hungry children and families department. It is as far removed from the Liberal Democrat ideal of smaller, more efficient government as is possible to get.." (read it in her piece "Pupils in our City deserve the best") 
4. Neighbourhood Partnerships
In 2008, the Council reorganised the way it works with Edinburgh's citizens. It set up the Neighbourhood Partnership structure [4. Neighbourhood Partnerships were established based upon the multi-member wards. They act as a focus for local community engagement, advise on issues of concern to their area, contribute to the plans of partner authorities and distribute community grants. Membership includes ward councillors, community representatives, partner authorities such as the police and health service, and the voluntary sector.]
Edinburgh is divided into 5 neighbourhoods (North, South, East, West and South-West) and some of these are further subdivided to give the 12 Partnerships. Each Dept has its own Neighbourhood Management Structure. This change led to more neighbourhood managers being needed at a neighbourhood level. Because C&F refused to countenance handing Community Education over to SfC back in 2006, each of the big two front-line Dept providers of services to Edinburgh citizens have ended up with two parallel sets of 5 Neighbourhood Managers – with the resulting duplication of support staff who are required to organise the services in such a way.
 The result has been some confusion in the minds of Edinburgh's citizens at Neighbourhood Partnership meetings. When elected members talk about discussing a matter with the Neighbourhood Manager, which one do they mean? The Neighbourhood Manager for C&F or the Neighbourhood Manager for SfC? [7. The Council note explaining that each Partnership will have a Children & Young People Sub-group is set out  in para 7.1 of   Council Review 2007:- Establishing Neighbourhood Partnerships .  Do these sub-groups come under the jurisdiction of the same neighbourhood manager (NM) that all the other sub-groups do (the SfC NM)?- or the C&F NM?. Presumably the former.
The responsibility of the SfC NM is further spelled out in the PROTOCOL FRAMEWORK FOR LOCAL COMMUNITY PLANNING IN EDINBURGH. It states that –
"3.2 The SfC Neighbourhood Managers will work with other neighbourhood managers and Council departments, and other agencies to develop a 'joined-up' approach to service delivery. This requires that Neighbourhood Managers are able to influence local service delivery across all Council departments and to communicate, as necessary, concerns about service delivery to other partner agencies. 3.3 Over time, the Neighbourhood Managers will help all Council Departments to periodically consult with Neighbourhood Partnerships and local citizens over key issues of policy and planning in such areas as education, transport, land use, retail location policy or any other area of concern to the Neighbourhood Partnership."
If education is mentioned here as part of the SfC NM responsibility, why does C&F need its own NMs?  Is that what a 'joined-up approach' is? There would seem to be no need for two sets of management if it has been set out primarily as an SfC function.. ]
Indeed, if schools are generally autonomous and deal directly themselves with headquarters, why is a Neighbourhood Manager for C&F needed at all? There are fewer and fewer Community Learning & Development staff to manage- they could easily be transferred, with the Community Centres, to SfC, to work alongside Library staff. Other support workers with vulnerable children – those C&F working with vulnerable children liasing with schools, could also transfer to SfC, who already have staff working directly with those initially presenting as homeless and others in a contact role (ie vulnerable people). Schools are insular places- they can work as well with support workers whether these staff be located in the C&F or SfC Depts. [5. The Asset Management Plan presented to the Education, Children & Families Committee on 15th June 2010 claims in point 1.9 that: "Options for the joint use of premises to utilise spare capacity will continue to be explored across all sectors.". There has been little evidence to date of this happening. (see Asset Management Plan 15th June 2010)]
Residential children homes bosses could also report direct to C&F in Waverley Court.
C&F recognises the need to harmonise its own CLD Managers with the Neighbourhood Partnerships in para 3e of the Appendix paper to Committee of 18th May 2010: 21st
Century Community Learning and Development in Edinburgh.
It might be argued that an SfC Neighbourhood Manager is not an education professional. Yet the SfC Neighbourhood Manager supervises libraries yet has no training or knowledge of librarianship. Furthermore, many of them supervise regeneration. This is a broad-ranging field, fundamentally related to social engineering. Are SfC Neighbourhood Managers qualified for that but unable to organise school catchments and placing- a rather technical process, really. If they deal with community safety (and they do) they are often dealing with the same challenging residents whose children are causing gip at schools. So would it not make more sense to allow joined-up thinking here?
To conclude, if the C&F Dept were serious about implementing funding cuts without impacting on front-line services, might they not start by working with SfC to reduce two parallel strands of neighbourhood management into one?
To summarise: for every one of the city's 5 Neighbourhoods there is both a Services for Communities Dept (SfC) Neighbourhood Manager and a C&F Neighbourhood Manager. If the Council combined these roles it could reduce the Neighbourhood Management bill by £350,000 at a stroke. It would simplify Neighbourhood Partnerships with Children & Young People sub-groups no longer reporting to a different Manager from every other sub-group.
 This would be best achieved by combining community centre management with library management, thereby saving additional cash. It would mean that school head teachers, residential children homes and nurseries would report direct to Waverley Court, with the Inclusion, Early Years, Health & Wellbeing and other back office staff re-organised to create a flatter management structure.
5. Duplication of Other Resources
Youth Resources
There are two kinds of youth work supported by Children and Families. There is the expected youth club-based provision (see Youth & Children ) and there is Young Edinburgh. Whilst the former can demonstrate a sizeable number of young people being involved, there is little evidence that the latter, for all its interdepartmental working groups, youth issues fora and glitzy annual award event, is actually achieving very much. Lothian Association of Youth Clubs run similar awards for youth workers and could be funded to celebrate young people too.
Reading resources
Children & Families publish a full colour book review magazine for teenagers Teen Titles. The Scottish Book Trust run a similar on-line one.
If such a magazine were essential for the Council to print and better than letting young people browse bookshops and libraries themselves, might it not sit better with the Library Service within Service for Communities ( CEC Libraries ..who also run their own Library Learning Opportunities programme)?
Sports Resources
There are sports staff in Children & Families ( CEC Sports Development for Young People), Corporate Services (CEC Sports Activity ), and – of course- in Edinburgh Leisure. Whilst the rest of the Council handed its sports facilities over to Edinburgh Leisure to manage years ago, C&F are belatedly catching up and beginning to get Edinburgh Leisure to take on some of their playing fields, thus helping open them up to community use and bringing in some extra cash. 
[Nevertheless, it took community groups two years to get C&F to allow the public open access to the new playing fields at the new Joint Campus Primary School in Craigmillar.]
Queensferry High School is the only high school where Edinburgh Leisure manages the community facilities out of school hours. Edinburgh Leisure has been managing the booking of school playing fields at Meggetland which are used by schools which have priority use in school hours. As of 2010 this management model iwas being rolled out further with a total of six sites providing off-site sports facilities for a number of high schools now having transferred to Edinburgh Leisure (see Children and Families Asset Management Plan- report to Committee 15 June 2010. ) but much more needs to be done.
Arts Resources
There are two Arts Units- one in Corporate Services (CEC Arts and Entertainment), and one in Children & Families. For a long time, each gave its own grants to voluntary organisations- one for exhibition and access- the other for education. This led to some confusion: access could mean training too, so both Units were sometimes funding the same activity.
Parents Information On-line 
Most parents access the Council's website and go to the Learning page where anyone can find out about schools in Edinburgh (see CEC Learning Page). So why does the Council need an "Edinburgh Grid for Learning" (EGFL) website as well?. It is duplication… with the EGFLoften simply redirecting users to the CEC Learning Page (from where many of the C&F reports are not available… )
6. Wasting money/not looking after assets
With threats to Castlebrae because of a cash shortage, can we really afford these?:
 i) Edinburgh and Lothians Intergenerational Network Whilst Edinburgh lags at the bottom of the performance table on early years class sizes, can C&F really afford to set this up? (see paper to C&F March 2010 Committee  Intergenerational Activity in Edinburgh )
 ii). Glow For all the money being pumped into the world's first national intranet for education- glow, how much is it being used by the schools it is being piloted in? Not that much: about 0.06% of Edinburgh's pupils and 24% of teachers regularly used it last year. You can download the report on Edinburgh's usage here.
 iii). Too many Papers  Over 50% of  C&F staff are not teachers; quite a few of them are kept busy writing reports and policies. Some of these can be found in the appendix called "Policies and guidelines to support the Quality Framework" in the  "Children and Families Quality Framework 2005" found by clicking on the Children and Families – Reports, Policies and Guidelinestab of the Edinburgh Grid for Learning website. This tab incidentally also lists the other 10 big plans, strategies and reports, some of which are now out of date.  C& F excel in producing policies, procedures and pointless paperwork, as one Evening News reader pointed out.
For instance, a recent new approach is peer evaluation, where the pupils are asked to evaluate each others writing. It seems that if a teacher isn't practising this technique all the time in their class, they are not teaching properly.
Many new new-fangled classroom initiatives just stifle the teachers ability to attend to the basics and adds to their prescriptive workload. But the back-room bods need something to do, so the Quality Improvement Officers are always telling teachers to use new approaches such as these. As a result of the workload, your average teacher does 40-50 hours a week, rather than the 35 they are paid for. Worn-out stressed teachers are not good for our children. What's more, they are terrified to speak out for fear of being disciplined. One teacher was told she dare not even complain on Facebook!
We could do equally well without endless new initiatives dreamt up by professors in Dundee or London and put into place by teachers flying desks in HQ. Let the teacher be a professional and teach the syllabus the way she sees fit!
7. Curriculum for Excellence
By forcing class sizes of 30 in P1-P3 in some Edinburgh schools, C&F is making it even harder to implement the "Curriculum for Excellence" programme in August 2010, already proving a challenge. The new programme, being demanded nationwide by the Government, requires greater pupil-led learning. (For more info on the Curriculum for Excellence, go to Edinburgh Council- Curriculum for Excellence Explained). 
Small class sizes are best for pupil-led learning, as the EIS attests: (see Teachers and a Curriculum for Excellence.) This is hard enough in a class of 18… but for 30 five-year-olds in one room at the same time? C&F is really making a mockery of the programme. The teachers union the NASUWT notes that by not delivering smaller classes in August 2010, the Curriculum for Excellence would suffer ("Delivery of education must not be compromised").
8. Clever Cuts
The Council had to save £45M in 2010-11 It is interesting how differently the two Depts handled the cuts:  C&F detail £12.215M of savings on page 45 of the Children and Families Service Plan 2010-13. SfC agreed £11.5M of savings in page 9 of their Services for Communities Service Plan 2010-13.
Children & Families also cut several community centres (The Numbers Shop, Colinton Mains, Longstone, Platform Adult Learning and Sighthill) reducing the total from 43 to 37. This saved £120,000. There are details on their Package 2 cuts here.
Finally, judges from the Customer Service Excellence awards said of Services for Communities in October 2010 that the efforts made to change the customer experience in Edinburgh have been genuinely 'transformational' . (see Customer service excellence for Services for Communities). Children & Families could learn much from following their example.
9. Are School Closures Necessary?
The commitment to assist deprived children with smaller class sizes is laudable. But confusingly, from Jan 2009 to June 2010, the C&F Dept closed 7 primary schools: first Bonnington, Lismore and Westburn, then Royston, Burdiehouse, Fort and Drumbrae. Six are situated in deprived areas. How does it help deprived children to take away their local education centre and force them to travel further to another school?  In 1999 there were 103 primary schools. In August 2010 there was 87.
The Council's C&F Dept said they were closing these schools because there were not enough pupils on the roll and consequently the class sizes were too small. Maybe they could have composited most of them into classes of 18 pupils? C&F did not want to consider this, even when they could have rented out any empty classrooms created to voluntary organisations, always struggling to find accommodation. Or else, made Council staff use these rooms to work from, rather than build new office blocks around the city [5. The Asset Management Plan presented to the Education, Children & Families Committee on 15th June 2010 claims in point 1.9 that: "Options for the joint use of premises to utilise spare capacity will continue to be explored across all sectors.". There has been little evidence to date of this happening. (see  Asset Management Plan 15th June 2010)].
This would have helped meet the costs of keeping these buildings open. Then, deprived children in these six areas would have had a strong relationship with their primary school nearby, with knock-on advantages in terms of parental involvement, a key component in raising aspiration for under-achieving children.
Truly, when it comes to deprived children "They giveth with one hand and taketh away with the other."
It is generally agreed that parental involvement in primary schools is very important (ie in a child's early years).
Nurseries were being closed too. As at 8th Oct 2010, Princess Elizabeth and High School Yards nurseries both faced the axe under the council's rationalisation proposals. Westfield Court, too (though C&F pretended it was about safety). But when rolls are rising and more and more children are needing places, where was the sense in it ?
The following timeline gives more information on the contentious topic of closing those 7 primary schools
23rd August 2007 – The Education, Children & Families Committee meeting discuss a paper on the discussions on the of the Children & Families "Rationalisation and Development Programme". Mike Rosendale's name isn't on this, though undoubtedly he was behind it- Gillian Tees signed it off. The report is 51 pages long, but it sets the grounds for the pattern of school closures that we see up to this day.
16th August 2007 – Cllr Andrew Burns wrote of this report in his blog when he described it as "ill-considered and, frankly, undemocratic". Even then, Andrew could see how Children & Families were working.
20th Nov 2008 – Three more primary schools suffer the decision to close : Bonnington, Lismore, Westburn (see meeting minute), in the first year of Lib Dem rule. Again, deputations were ignored.
17th Dec 2009 – the full Council meeting when Mr Rosendale was getting the Lib Dems and Cllr MacLaren to close 4 primary schools at once: Burdiehouse, Royston, Drumbrae and Fort.
The Lib Dems had been in power for a year. The meeting was to approve the "outcome of the consultation process" for each of the schools. The parents at Clermiston primary school even rolled up in a deputation to complain about the effect the closure of the nearby Drumbrae would have on their school. The minute of the meeting gives some idea of the quality of the arguments all the school action groups were putting against the decision to close their schools. Even Unison put in their tuppence worth.
When it came to the voting decision the Council was split even stevens. Lib Dems/SNP in favour (29 votes); Labour/Tories/Greens against (29 votes). When this happens, the Provost gets the casting vote.. and he supported the closures (he was a Lib Dem man, after all). Mike had got his way once again.
15th June 2010 – The Asset Management Plan presented to the Education, Children & Families Committee claims in point 1.9 that: "Options for the joint use of premises to utilise spare capacity will continue to be explored across all sectors.". There has been little evidence to date of this happening. (see Asset Management Plan 15th June 2010)
Feb 2012 – Edinburgh Labour publishes its Manifesto for the forthcoming Council Elections:
"We'll talk with schools about ways to give staff, students, parents and community a greater say in how the school is run."
"They (the Lib-Dems) decided they knew best and closed good schools and nurseries without talking properly to parents."
"We'll ask the cross-party education committee to consult with schools and parents to draw up a long-term strategic plan to tackle over-crowding and underuse in our schools. We recognise that many of our most vulnerable and challenging pupils are failing to receive the support they need and deserve. So we'll try to increase our support for them and seek sufficient resources to meet the growing demands placed on educational psychologists. Most of all we'll fight to make sure education becomes a priority once again and gets its fair share of funding, allowing our schools and our children to flourish."
4th July 2012 – Only 3 years later, the Council decided to use the Leith Fort primary school for accommodation for social work staff (Planning application 12/02359/FUL). They know they'll have to re-open it as a school once the Fort multis demolition has been completed and new homes go there.
11th May 2012   – " Council faces parents revolt over school closures review"  The News article stated "Officials will examine other uses for the buildings, including opening up buildings for community use and introducing nursery facilities"
Cllr Burns says "This administration is going to be very different from what's gone before. It's going to be open and inclusive. We are going to listen and relentlessly look forward and focus on what is best for the capital city"
However, Cllr Burns is whistling in the wind, because Mike has his own agenda. He is not interested in renting out any of Castlebrae for community use.
Castlebrae Closure Threat- A Potted History
11th Sept 2012 "City education officials school is failing pupils and should be closed down" The offensive starts in Children & Families campaign to close Castlebrae High School in Craigmillar. This is an Evening News piece that parrots Council poison, presumably from the Head of Schools: Example?  A senior council source : "We need to lance the boil. If we kept it [Castlebrae] open, it would be failing a whole future cohort of children."
Thus the ground is set for a Labour-led Administration to close the smallest school in the most deprived area of the city, so that it can use the running costs to subsidise the botched plans to relocate Portobello High School.
9th October  – Education, Children & Families Committee meets and Labour/SNP groups vote in favour of closure consultation. Cllr Maureen Child (local Craigmillar Councillor and Labour Whip) helps push through the decision. The report is authored by Mike Rosendale (see item 6 in the minutes )
28th Nov – Grant Laurenson in the Evening News. This is the first piece in a newspaper that tells it like it is. It summarises why Castlebrae Community High School matters more than any other. Edinburgh's very own educational crime of the century is being committed. Under a Labour Council, too.
11th Dec – The relevant report this was based on tabled a the Education Committee meeting -the "Educational Attainment/Improvements in Performance 2012" report.
The figures show that the Consultation Closure report presented to Committee on the 9th October can now seen to be painting an even more misleading impression of Castlebrae's educational attainment than was truthful. The appendices's all show one common fact. That Castlebrae has the highest Free Meal Registration (FMR) figures than any other High School in the city, at 54%. The FMR stats are what the Education Dept uses to measure deprivation in the school cohort. So no surprises for Craigmillar there, then. The next one down is Craigroyston at 41%, then WHEC at 40%.
Appendix 1a makes for some astonishing reading. It's easy here to see how well Castlebrae compares to its peers- Craigroyston and WHEC. And it is doing rather well, really – in spite of what Messrs Tee and Rosendale claim. There are 7 Targets looking at educational attainment at different stages and ages. If you look at how Castlebrae does, you'll see that it consistently outperforms Craigroyston quite significantly. Every year. Over a 5-year period. On every single one of the 7 target indicators, bar 1.
So, over the 5 years to 2012, Castlebrae has done consistently better than Craigroyston, even though it has 13% more deprived pupils. Not quite as well as WHEC, it's true, but then WHEC has a new head, who is close to Karen Prophet, so that school has been getting plenty of resource and support recently. Unlike Castlebrae. So Castlebrae's record is even more surprising, really. OK, so Castlebrae per head costs are higher. But the building is falling down, so some of the costs are going to pay for leaky roofs and poor heating. And more ASN pupils.
On the basis of this evidence, if educational standards were the criteria for closure, the Council should have been closing Craigroyston (a brand-new school) and not Castlebrae (a decrepit one).
So, "Castlebrae trumps Craigroyston at Exam results- Official"!
13th Dec: full Council Meeting – the Greens submitted an emergency motion, calling for a new school in Craigmillar, at the behest of Sheila Gilmore and Save the Brae. It sought: cash from the £394M capital pot that Mr Osborne had made available to Scotland last week; called on the Council Leader to make urgent representations to Scottish Ministers for Craigmillar school money; called on any Government response to inform the Council's decision in March 2013 on whether Castlebrae High  school should stay open (or close)- and called on the Council to consider including the spend for Castlebrae to keep it running in the February budget.
StB and SG thought this motion would do the trick and meet their needs of keeping Castlebrae open long enough whilst a replacement was built.
But it would not come to pass. The Capital Coalition pushed through a wrecking amendment which kicked the new school back into the long grass. Their amendment was passed by 47 votes to 6. The minute of the meeting showed the vote: Agenda item 13 (on page 14)
The meeting was recorded using the Council webcam and it can be viewed here . At 2hrs 27 minutes in, Castlebrae and the new school comes up in Leaders report and subsequent questions. Around 3hrs 45 minutes in, the Green motion is debated.
A full transcription of this crucial meeting is available in request. For a copy, e-mail Kids Not Suits.
14th Dec- City won't ask for Castlebrae school funds CITY leaders have refused to ask the Scottish Government for extra cash to replace Castlebrae High School early – despite pressure from campaigners to start work before 2018.
26th Dec – Herald: Celebrities back campaign to save community school case study. Same story in the Evening News at 12.15 that day.
14th March 2013- Eventually Castlebrae wins a reprieve. To understand how this was achieved, see the page "Castlebrae High School Has Been Saved"
10. Empty School Buildings
Children & Families could work with other empty Depts to make better use of empty school buildings to reduce maintenance and security costs. Or else rent them out to generate money. 
By not doing either, it is degrading its assets.The old Niddrie Mill Primary School has been empty since June 2008. A successful company running business courses for foreigners wanted to rent it. But the businessman was turned away. If it had been tenanted, that would have not only discouraged vandalism (the rear 70s buildings were detroyed by fire in March 2009) but it would have meant that the fine old victorian main building would have been heated throughout the terrible winter we had. But it was not; C&F forgot to turn on the heating; some of the building's woodwork warped as a result of the extemes of temperature and £0.5M worth of damage was caused. The fine victorian building was due to be converted to 12 flats as soon as PARC, who have planning permission, had found a backer. However, now Children & Families are thinking to demolish it, to the horror of local residents (see Campaign begins to save Victorian ex-school building). Private Eye also covered this in issue 1270 in the Nooks and Corners column.
11. Buildin
g
new schools
Children & Families are obsessed with renewing the school estate.
In Private Eye, Piloti once commented in the Nooks and Corners column that
"A representative from Sandwell council complained on Radio 4 that some of the local schools 'date back to the 1920s, and clearly that is not conducive to good quality of education.' Really? Why not? Has the cretinous councillor not noticed that pupils at Eton and Winchester are being educated rather well in much older buildings?…"
There is little evidence that a new school building increases educational attainment. However, there is evidence that a smaller class size does. Why not plumb all the cash spent on building new schools into smaller classes? (indeed, in disadvantaged areas, why not have three teachers to a class of 18 in a room, rather than one?) That would make a huge difference to pupils learning. The old buildings can be refurbished, rather than demolished. But Mike knows that parents and pupils want new buildings. Maybe he does too.
12. School Rolls are Rising
School rolls are rising – and as they are needed these same classrooms in underfilled schools could have come back into use. However, what C&F wants to do, having closed these schools, is to demolish them, then sell the land to housing developers. [Even then, C&F are not showing much business sense. Bonaly Primary School annexe in Colinton was valued at around £1.7 million in 2007, but the C-listed late-Victorian building had been advertised for offers over only £900,000. (Eve News July 2010 Sums look bad as school put on sale at bargain price )
However, since the school roll is now rising by over 215 per annum across the city, year on year, we will soon need more new schools. (see the info which spells this out in the Edinburgh Council's "Investment in Schools" paper of August 2008 – contact Kids Not Suits if you want to be e-mailed a copy). More up- to date information can be found in the paper to Committee of March 2010, which notes that August 2010 will see a 5.9% rise in P1 entrants compared to the previous year (this is where we got the growth figure of 215 extra pupils pa (see Strategic Management of School Places: P1 and S1 intakes for August 2012). 
(The increased number of 5 year olds in Edinburgh is greater than this- around 300, but a number of parents go private).
The C&F Service Plan 2010-13 also points out when looking at the increasing birth rate: "This is expected to result in a significant increase in P1 intakes of 18% between 2009 and 2014."
But with no new buildings available, children will get educated in portacabin annexes (already happening at Tower Bank Primary). If new schools do need to be built, then what C&F will have done in closing and demolishing schools will be bad for the environment. It is environmentally extremely damaging to demolish buildings just to replace them; refurbishment is a far greener option. New build is also very costly – can the Council afford to keep borrowing? A new school can easily cost £14M. 
Obviously there are issues where population growth means that schools are not in the right place, but in Craigmillar two perfectly sound schools 5/8 mile apart have been closed – to build a new one midway between them, at a cost of £16M.
Why did Children & Families agree to PARC spending its money on this, rather than a new secondary school for Craigmillar town centre? They failed to see that PARC did not have a snowball in Hell's chance of raising the money from house sales to pay for an £18M secondary school.
Trends in Pupil Population Growth
Trends in pupil population growth across Lothian can be compared  [6. Lothian Councils-  comparison in 2010: PS= Primary School, SS= Secondary School
| | | | | | | | | | | | | | | | |
| --- | --- | --- | --- | --- | --- | --- | --- | --- | --- | --- | --- | --- | --- | --- | --- |
| LA | Dept budget | FTE | totalroll | %age of lothian total roll | PS roll(inc Private)09 | SS roll(inc Private)09 | number of SS | Occup-ancy | number of PS | Occup-ancy | avroll | Structure | pastgrowth | futuregrowth | changes to School Estate? |
| Edinburgh | £377M(38% of total CEC) | 7339 | 42483 | 45.7%(but 49% total Lothian education spend) | 24234 | 18609 | 23 (+14SS of which 3 PS, 7SS and 4   all-thru school) | 88%;#in fut to rise to 95% | 87 for 10-11 | 97- 82%; 08-72%;10-75%; in fut to rise to 90% | 125 to 650 | "Schools & Community   Services" Sch, CLD,0.5SW (ie residential and interventions) plus outdoor   edn and sports facilities and offices | 5%for 97-08 | 7.5% for 08-17, but 6% to move to   private sch* | 00-08 17 refurb PS; 00-05 16 PS   closed to give 7 new PS . in 09 closed 3 PS, in 10 closing 4 PS |
| Midlothian | £100M | 1553in 09, but for £73M | 11376 | 12.20% | 6308 | 5068 | 6 (+1SS) | | 30 | | | Sch,Lib.CLD | | | |
| East Lothian | £99.7M | | 13455 | 14.50% | 7362 | 6093 | 6 | | 35 | 99-84%;05-81.8% | 207 | | 6.6%for94-04 | 17%for02-16 | at 06 to build 5 new PS, but at 10   the total was the same as 06 |
| West Lothian | £179M | | 25719 | 27.60% | 14344 | 11375 | | | | | | Education and Culture is combined | 10.6%for94-04 | 23%for02-16 | |
| Total | 756M | | 93033 | | | | | | | | | | | | |
Families are moving to East Lothian and West Lothian. At present 13% of 5 yr-olds do not attend LA schools in Edinburgh (so ripe ground for Trust schools) (CEC thinks this will rise by 6% by 2017, so 19% total?). Anyhow, projected increase in 5-yr olds going to state schools will rise from 4000 pa in '08 to 5000 pa in '17. ]
Final Words
C&F has, over the past 10 years, indicated an unwillingness to countenance new ways of working and delivering services to Edinburgh's citizens, whether they be vulnerable or not. It shows a disregard to front-line service delivery and a love of middle management with the result that C&F tries to develop a service such as that of helping vulnerable children by cutting services to other less vulnerable children and adults. However, by being more creative in its approach and by trying harder to learn from- and work with- their Council colleagues, C&F might not find itself in 2010 trying to cut school staffing levels, at a time when the school roll is rising.
There are flashes of inspiration at C&F, such as the Lottery-funded "Growing Confidence" programme. But these programmes are down to clever individuals working at Children & Families seeking funding elsewhere, rather than because of top management decisions.
To conclude, a picture can be painted of Children & Families as being a Council Dept that is insular at the very top, not customer-focussed, over-managed, bureaucratically over-staffed, has insufficient strategic thinking and is under-prepared for future challenges. Its decision in 2010 to have P1 class sizes greater than 25 pupils – in over 38 schools -, at the same time as introducing Curriculum for Excellence –  was a further manifestation of an inability by senior management to use public money wisely in educating and supporting Edinburgh's children.
Their recommendation to close Castlebrae shows they haven't learnt anything since.