Only the Scottish Government can force Councils to work regionally on sharing services
Please support this Kids not Suits petition on the Scottish Parliament website: PE1606: Forcing Scottish councils to collaborate regionally to provide education and transport services. It is too late get your name added, but we want to build a network of those who are interested in the progress of this through parliament. You may even want to present evidence (anonymously) that will strengthen our case. Get in touch here and you'll get an e-mail when there are developments.
URGENT CALL FOR HELP: TEACHERS- if you are a member of EIS, and want to help, please get in touch here.  Can you lodge a motion with your branch calling for EIS to support this petition? It will make a MASSIVE difference if you do.
Why Support the Petition?
Efficiencies could lead to staff being redeployed out of the back office and into the front line. Not 32 unitary authority Council education – and transport depts – but 9 regional shared service boards.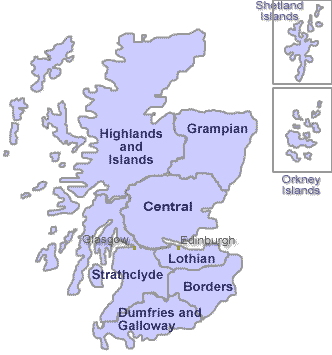 Scotland has higher numbers of public sector workers per head than most of Europe, but services that are no better. Why? Because 32 local authorities serve a population of 5.2 Million- 162,500 people per Council. Looking at just upper tier councils delivering roads and schools, England has 152 Councils for 57.5 Million – that's 378,290 people per Council. Thus we have double the number of Councils per head for big services; every authority requires admin costs, so we Scots pay twice as much for the back office as those living south of the border. Scotland suffers from duplication and inefficiency in having so many back office Council staff for so few people.
The petition is clear: No staff would be made compulsorily redundant as a result of Councils sharing education and roads services; they will be redeployed out of the back office into the front line. the result would be reduced class sizes and better transport services. Other shared service savings from those taking early retirement or employment elsewhere, to be ploughed into building more, small, schools and fixing roads.
If we'd done this in December there would have been no need for Councils to cut their budgets due to austerity.
Fix Local Government. Anyone in the world can sign. Due to IT problems, Parliament has made an arrangement with Kids not Suits, that if we collect signatures they will add them. We are compiling a list of names- make sure yours is on it! To add yours, sign above.
What the petition proposes is not new
Roads and schools were delivered in Scotland on a regional basis until 1996, when the 7 Regional Councils and 2 Island Authorities were abolished by the UK Tory Government: they were seen as bastions of socialism. The new 32 Unitary Authorities were based on the pre-existing District Councils and took over the delivery of education and transport.
Just 3 years later, the new Labour Government established a Scottish Parliament.
The new Unitary Authorities went on a spending spree and duplicated the Departmental structures of the region at local level, thus multiplying back office costs instantly. In Lothian, four unitary authorities were created and so Education and Transport admin costs increased fourfold. More reasons why Councils sharing services is a good idea can be found on the Parliament website at  www.scottish.parliament.uk/gettinginvolved/petitions/PE01600-PE01699/PE01606_BackgroundInfo.aspx
In addition, this document published by the UK Government in 1995 is helpful: The Working of Joint Arrangements 1995 – click to open. It observes that reforms of local government in England have led to the creation of many joint arrangements, where district or borough councils work together to provide specific services. However, some types of joint arrangement work more effectively than others. This study, by Tony Travers , Stephen Biggs and George Jones of the London School of Economics, looked at local government in the six metropolitan areas and London to test how existing joint provision works.
Political Support for this Petition
The first time politicians commented publicly on this petition was at the East Edinburgh hustings in Northfield on the 7th April. The candidate's responses can be seen in the 10 minute clip at https://youtu.be/GX023_oKDEM
Whilst there seems to be some support for the regional provision of transport, there is resistance to the same for schools. Kids not Suits suspects that for many politicians, their gut reaction will be to say no to this part of the petition. But there are big reasons why they should say yes.
Reasons to Regionalise Schools Delivery
In order to see why this should be supported, it would be useful to give some background to the petitioner. Pete Gregson worked for Lothian Region Education Dept from 1984 as a part-time youth worker until 1988, and latterly he was funded by them for the project work he did in schools with pupils suffering social, emotional and behavioural difficulties. He did this as Co-ordinator of Young People Speak Out (YPSO), a video-making project, which ran from when he set it up in 1993 until a couple of years after he left to work for Edinburgh Council in 2005 (see Gwynedd Lloyd CREID evaluation of YPSO school's work here). YPSO worked with 500 young people a year, aged 12-25, through 80 annnual projects. YPSO ran from 1993 until 2007 running outreach projects to schools- along with youth work projects in areas of multiple deprivation.

YPSO was funded up until 1996 by Lothian Regional Council Education Dept; thereafter by the Education Departments at Edinburgh, East Lothian, West Lothian and Midlothian Councils. Therefore, over a period from 1984 till now (Mr Gregson maintains strong links with schools through being on the Primary School Parent Partnership until last year)- he has grasped a pretty thorough knowledge of how schools are supported and funded.
His view is critical- of Edinburgh in particular- readers can see what he think if they look at other pages on Kids not Suits website at Edinburgh Schools Deserve Better and Running Education on a Regional Basis and – for his campaigning around infant's class sizes – www.kidsnotsuits.com/campaigns/p2p3-class-sizes .
There has been widespread poltical support for reducing infant's class sizes. Since 2010, Kids not Suits has argued this can be best achieved by taking teachers out of the back office and into the front line. Here is a protest at Edinburgh City Council Chambers in August 2010 calling for just this: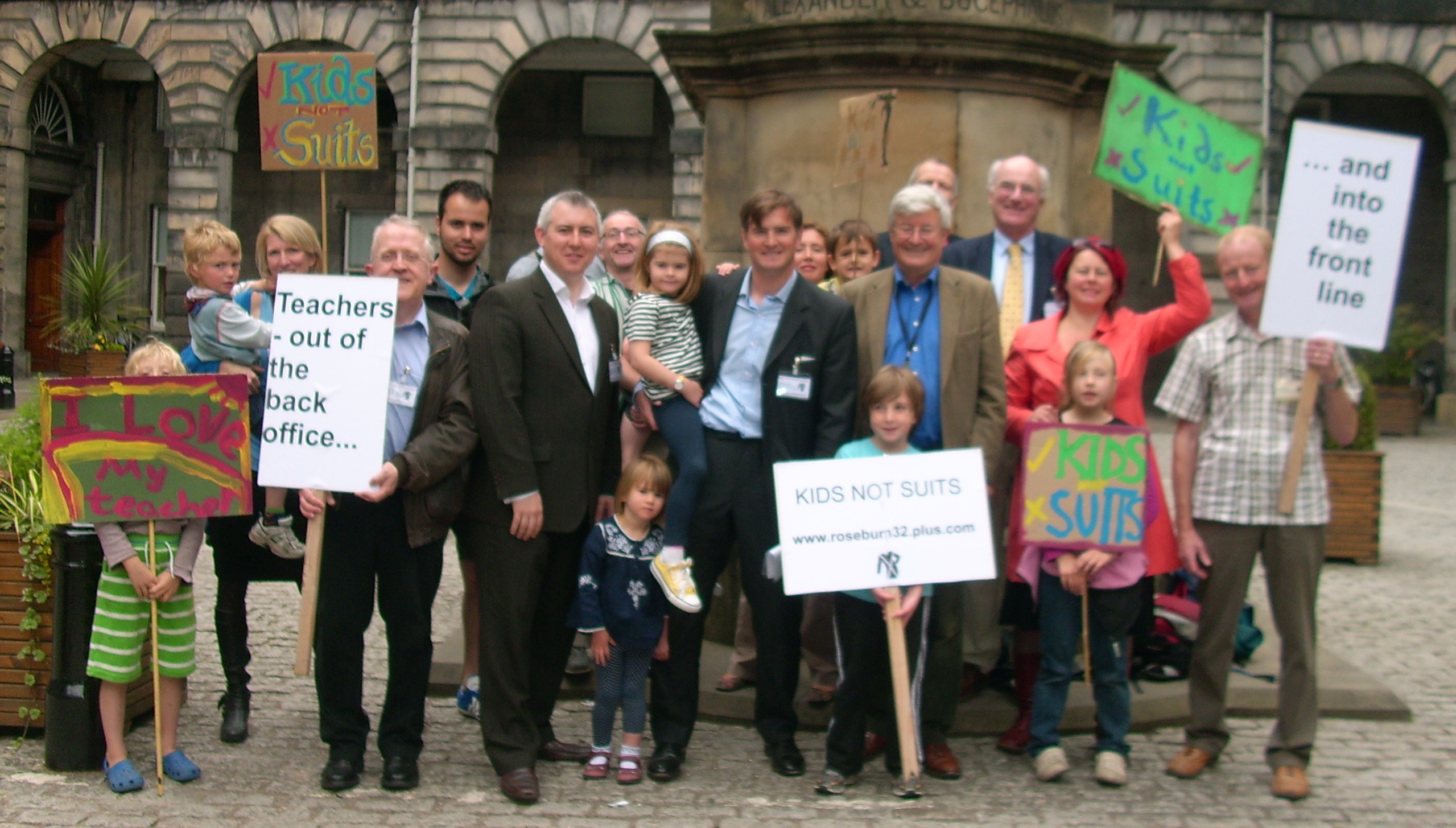 Politicians attending the launch of Kids not Suits at Edinburgh City Chambers in Aug 2010 were Cllr Paul Godzik (Labour), Robin Harper MSP (Greens) and David McLetchie MSP (Conservative). They joined the KnS call for teachers to get out of the back office and into the front line to create smaller class sizes. Adversity makes strange bedfellows.  All united in their opposition of the Lib Dem Education Convener, who was in power at the time with SNP support.
Financial Savings
The KnS petition argues that by forcing Lothian's four Councils to fund and run Lothian's schools through a region-wide joint board, vast sums of cash would be saved. Edinburgh alone spends 39% of its £1Bn budget on education. Huge sums are kept at Waverly Court HQ for admin purposes.
The Dept that was Children & Families employs 45% of all Council staff: it has more non-teaching staff employed than teachers; there are 3,436 teachers employed and 3,380 others (see staffing summary in CEC Key Facts 2015-16). These others are classroom assistants, nursery and early years staff, community centre staff, educational psychologists and therapists, disability workers, Active Schools Co-ordinators, Youth Music Initiative Co-ordinators and instructors, Children & Family Centre staff; Early Years Centres staff; Residential Care Officers; domestic staff and social workers.  Also included in these "others" are 524 staff involved in back-room services and management. Some of these "others" will have teaching qualifications, but will not be employed as teachers.
Of these 524 staff, 190 are managers (we know this 'cos Pete counted them when he worked there).
Just looking at Edinburgh alone, the scheme would see these 524 staff redeployed back into teaching. If they didn't want to return to the classroom (in either an admin, classroom assistant or teaching capacity) then they may succeed in finding a place at the new region-wide education authority.
The petitioner's aim is to see much smaller class sizes and lots of new schools being built- and smaller ones, too. His son is at Craigmount High, a badly-designed PFI factory of 1300 pupils,  with huge classes, where bullying is rife and crowd control the best most teachers can hope to achieve when dealing with the "less motivated" pupils.
Anyway, he proposes a means of giving teachers the resources to enjoy life in small classes in well-resourced schools, without being hassled by meaningless directives and bureaucrats from HQ – when most of the time they can organise their own training. Under Lothian Region, schools were run more effectively than they are under the Unitary Authorities- schools were comparatively better resourced in those days and teachers enjoyed teaching more. The Lothian-wide teacher training and support run from the Dean Centre by the professional education advisors based there worked like a dream. Admin on catchment areas and placements was run from Torphichen St.
Schools still had loads of problems with tricky teenagers, true (Pete worked with many) –  but they probably got better youth work support in those days as well.
Will you help him bring those golden days back to Scotland? Read more on the petitioners arguments for regionalising education  and the links to SPICE data that informs his calculations, by clicking here.
The news that Edinburgh Council paid £100M too much for badly designed PFI schools only makes the case for properly resourced and managed regional boards even stronger. For a joint Board, in that it would be controlled by 4 different Councils, would impose greater (not less) political scrutiny of contracts such as PFI. For every single Cllr serving on a joint board would know they are accountable to the whole authority that appointed them and that their every decision would be heavily scrutinised by their Council colleagues.
Other Websites- Links
If you want to view the petitioner's proposal to Edinburgh to share services with other Lothian Councils to save cash through reducing duplication, please click on  Council Budget Challenge
The Evening News and Scotsman carried opinion pieces from the petitioner calling for Councils to share services on 8th Dec 2015 "Edinburgh Council needs fresh ideas not cuts" and 16th Dec 2015 "Shared services way forward for councils".
On 24th April there was an indication that the SNP were moving forward on the regional delivery of schools:  The Herald article "Secret Scottish government plans to shake-up schools system" said "The Scottish Government has held private discussions about creating new regional education boards to help deliver sweeping changes to the country's schools system…."
Unison View: e-mail to Kids not Suits
"We are not opposed to shared services in principle and have supported such initiatives when appropriate. We agree that some services are best delivered 'regionally'. For example, some purchasing initiatives and we are in favour of pooling or merging pension investments.
However, we have some serious reservations about shared services and have successfully opposed some initiatives. Most recently in the Clyde valley and the Stirling/Clacks plan. The business case often doesn't stack up and far from saving money they often just move costs around – mostly onto operational staff an experience I have also encountered in our private sector employers who tried this approach. This is particularly the case with initiatives that seek to create large back office services. The member survey in our report 'The Front Line Starts Here' makes this point well….
We have a strong preference for public service reform that starts from the bottom up rather than top down solutions like shared services.
I appreciate that you might not agree, but I hope that explains our position."
– Dave Watson, Head of Policy and Public Affairs, UNISON Scotland